Knife Design: Safety
---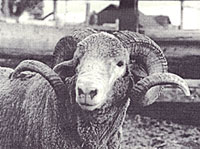 Rambouillet Bucksheep  
Guards    
 I feel that a knife you can depend on must be as safe as possible to the hand that uses it. This is why my knives are provided with functional full guards. You can ill afford a knife accident when on the hunt or expedition of a life time. Accidents are inconvenient, expensive, and can result in permanent disability and sometimes death. I have carefully dissected every knife accident I have heard of and designed knives that will eliminate the probability of accidents as much as is possible.
Handles 
I devote all of my past experience and ability to provide handles that not only fit the hand of her owner, but are kind and feel good in all extremes of weather and use. My handles are offset in order to reduce stress to your hand and designed specifically for either right or left hand use. I will use any material for handles as long as it comes from the head of a sheep. I have properly cured and shaped sheep horn to be the absolute king of the hill when it comes to beauty, durability and companionship that you can be proud of.
Sheaths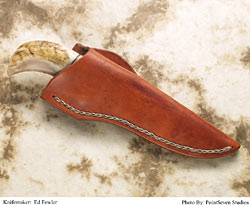 Hand stitched pouch sheath
Photo by PointSeven Studios (Click photo to enlarge)
 My sheaths are not simply an afterthought. I design knives that are compatible with the sheath that will carry the knife. I believe that a close fitting pouch type sheath is an absolute necessity to reduce the probability of losing your knife in the field. Pouch type sheaths also provide immediate accessibility to the knife when you need it. One hand is all that is necessary to access the knife instantly and return it safely to the sheath when the task is completed. My scabbards are made of heavy-duty waxed harness leather, using only the toughest leather from the back of beef cattle. Knives stored in this type of leather do not have the proclivity to rust that you find in some leather treatments. Each scabbard is custom fit to the knife it will carry with a heavy leather welt sandwiched between the sides to protect stitches from being cut by the cutting edge of the knife. All scabbards are hand stitched. My pouch type scabbard permits the guard to fit snugly into the scabbard, providing safety, security, and instant availability. I have never lost a knife from a scabbard made in the manner. The sheaths are tough; they should easily last as long as the owner and the knife. Should you honestly wear one of my sheaths out, I will replace it free of charge.